I'm really excited to be teaming up with Krista Lord from Hope in the Waiting to bring you guys a series full of tips and tricks for a festive, gluten-free July 4th complete with all the traditions you've grown to know and love.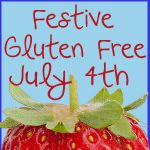 The idea for the series started at a recent pool play-date. Krista's family was a few weeks into a new gluten-free diet and that got us talking about the role food plays in our family traditions – especially around holidays and special occasions.   I remember saving up all week and having a "cheat meal" whenever there was a cookout or any other gathering of family and friends.  I didn't want to be the weird one who brought her own food and I was afraid no-one else would like what I we were eating.  So holidays and get together becameexceptions where I compromised our new eating habits to fit in (at first).  But not everyone can cheat just because it's more convenient.  Whether you choose to change your diet or do it out of necessity, there are some great options for traditional July 4th foods that everyone at your cookout will enjoy!
When I think of the Fourth of July, I'm thinking burgers and dogs.  A cookout has always been part of our celebration and you just can't have a cookout without those two foods.  Well, you can, but if that's what you're used to - like us – you don't have to give it up just because you're going gluten-free or simply trying to be healthier.  Lucky for us grilled meat lovers….there are some great options out there - if you know what to look for. 
Applegate Farms makes organic, gluten-free, casein-free, dairy-free, nitrate/nitrite free beef dogs and turkey dogs.  They grill up beautifully and taste better than any hot dog I've ever tried.  Cut it up and dip it, throw it on a bun with plain old ketchup and mustard or get creative with these grilled hot dog recipes courtesy of the ApplegateFarms website.  With all the creative toppings they suggest you won't even miss the bun.  But if you do, Rudi's has you covered with their gluten-free hot dog and hamburger buns.  Their organic, whole wheat options are yummy too if you're looking for healthy, but not necessarily gluten-free. 
When it comes to burgers, I like them handmade.  I usually look for an organic, grass-fed ground chuck at the Farmer's Market, Whole Foods, or a local butcher.  Some say this meat doesn't make a great burger because it gets dry and doesn't hold together well.  I disagree.  You just have to adjust your cooking technique.  Especially on the grill.  Grass-fed beef cooks a lot faster than regular ground beef so watch it closely.  I don't like mine rare, but I will leave a little bit of pink in the middle.  I'm a topping girl when it comes to burger so I don't add a lot of seasonings or marinades before hand.  Just sea salt, cracked black pepper and maybe a little bit of expeller pressed coconut oil to help prevent drying and sticking.  Once they come off the grill I pile on the flavors.  One of my favorite combinations is avocado, tomato and goat cheese, but I also like grilled pineapple and onions or grilled peppers and onions.  I go bun-less on the burger because I don't want the bun to mask the flavors of all the tasty toppings. 
It took me awhile to find new ways to eat and enjoy old favorites, but now that I have, holiday meals are just as much fun and even tastier than a few years ago.  When you find the right foods and recipes you can cook things that meat your diet needs that your family and friends will love too.  Check back later this week for recipes for healthy and delicious gluten-free side dishes (Wednesday here) and gluten-free desserts (Thursday on Hope in the Waiting). 
For a fun July 4th decorating idea, check out Krista's blog tomorrow.  She has an easy and creative Fourth of July wreath you'll love!